Taiye believes that mentorship is key to building a stronger world – and a more equitable one, too.
As Taiye looked upon the cybersecurity workforce, he noticed a significant lack of gender and ethnic diversity. That recognition gave birth to
theCyberist
– HISPI's mentoring program that aims to 
bridge the gap
. theCyberist mentors and train ethnic minorities, women and veterans in cybersecurity best practices to fill positions in this growing industry.
The HISP course was instrumental in furthering my career by providing a comprehensive, holistic approach to Information Security. While simultaneously providing its students with a wealth of resources and a healthy, people driven approach to governance and enterprise risk management, HISPI provides instruction thorough enough for a beginner in the field, yet broad enough to impact seasoned veterans. Industry leaders, who are genuinely passionate and eager to share their knowledge, make the course less theoretical and more practical by creating an environment in which best practices are ingrained within students through first hand experience and real life examples. I can not recommend this course enough, as it has changed my life drastically. In the year since participating in the HISP course, I have entirely changed careers, accepted an Information Security role with a Fortune 500 company, received a 50% compensation increase, gained a greater understanding of protecting information in an increasingly hostile field, and received support from the HISPI community along the way. This course is a game changer in the best way.
– Ross F, Internal Auditor at PPG Industries
My previous experience in the IT industry gave me primarily a technical view of the professional landscape. The HISPI course changed my perception of the industry and helped me to understand the real processes and procedures required to be successful in Cyber Security – and the HISPI mentorship program has given me real world experience in Cyber Security. As a direct result of my training, I've received interviews with several fortune 500 companies for Cyber Security Analyst, Cyber Security Engineer, and many other positions. My training with HISPI has changed my life and professional outlook.
– Kevin D., MBA,MISM, HISP
My background in IT Operations made me relate Information Security to primarily Technology. Attending the HISP course changed that perspective, giving a better insight to the important role; people and processes also played (Holistic) in securing the system strategically by ensuring compliance to different Information Security Policies. Furthermore, my participation in the HISP mentoring course made me realize the "Why, What and How" of implementing the Information Security Management System. This helped chart a course in the development of my Information Security Career.
 – John I, Information Security Analyst C1
I was lost in trying to find the next step in my IT career. I had always had security in mind but always looked at it through the scope of "Network Security" till I got introduced to Mr. Taiye Lambo who opened my eyes and mind to the world of Cyber Security. I signed up for the mentorship and HISP Certification program which helped me view security as balancing people and processes. The most important part of the mentorship program was the very first assignment from Mr. Lambo where he asked me to write down my Career Journey Map. As a person of faith, I saw the exercise as more than just creating a road map but as speaking my career desires into existence. In 6 months, with the Push and Support from Mr. Lambo I was able to land a Security Engineer role switching from IT Operations. I would recommend this program to anyone seeking a better understanding of Cyber Security in the real world hence the term Holistic.
– George O, Information Security Engineer (IAM)
I have had quite a few careers throughout my life, a Human Intelligence Collector in the Army Reserve, High School Math Teacher, Mainframe programmer, applications developer, and now an IT security professional. The HISP course provided a great foundational overview in the concepts and ideas of cybersecurity. The HISP was a great foundation to my CISSP, which I obtained a few months after. Even more valuable than the HISP training was the mentoring I was provided from the HISPI. My mentor gave me the guidance and motivation I needed to advance my career. Working with my mentor I was able to transiti
A passionate mentor, Taiye has trained more than a thousand security leaders in Fortune 500 companies, including Microsoft and McKesson. Through HISPI's diversity-first outreach program theCyberist,Taiye's independent training, education and certification nonprofit organization, Taiye promotes a holistic approach to cybersecurity to train effective leaders and help them launch successful careers. Taiye educates individuals in cybersecurity best practices and standards and mentors them by helping them set career goals, resolve difficult problems and make sound career decisions.
TAIYE LAMBO SPEAKING ON THE IMPORTANCE OF MENTORSHIP
Most IT guys write code,
NOT FICTION.
But Taiye Lambo's career in cybersecurity very decisively put him on a path towards writing his first book.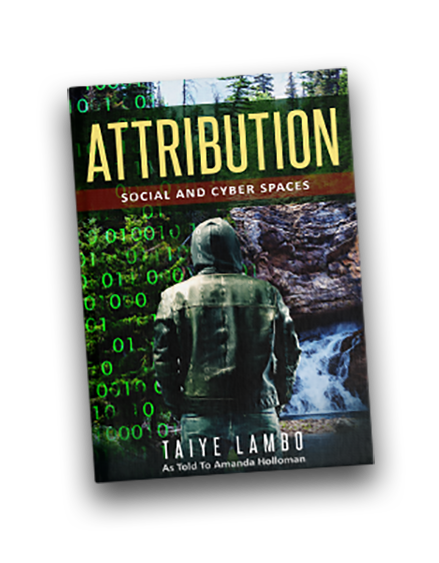 Most IT guys write code,
NOT FICTION.
But Taiye Lambo's career in cybersecurity very decisively put him on a path towards writing his first book.
I'm passionate about using knowledge as a force for good.